Scottish Armorials from earliest times to the start of the eighteenth century, or Aspilogia Scoticana", to give the book its full title, is a survey of all known Scottish armorials. It describes the rolls of arms and discusses the relationship of the rolls to the events of the day and to the various incumbents in the Lyon Office. There are 40 pages of colour illustrations, showing examples of most of the famous rolls especially of the sixteenth century.
The book is published, in A4 format for the benefit of the illustrations, with a generous grant from the St Andrews Fund for Scots Heraldry.
Published by the Heraldry Society of Scotland, 112 pages (40 colour plates).
It is a perfect companion to the Society's Dublin Armorial.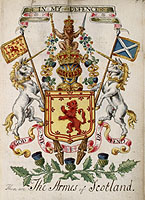 Non HSS Members
Within the UK
£12.00 + £5.00 P&P
European Mainland 8 -10 days
£12.00 + £9.50 P&P
Rest of the World 8 -10 weeks
£12.00 + £15.00 P&P
HSS Members
Within the UK
£10.00 + £5.00 P&P
European Mainland 8 -10 days
£10.00 + £9.50 P&P
Rest of the World 8 -10 weeks
£10.00 + £15.00 P&P