The Heraldry Society of Scotland is delighted to announce the publication of "The Heraldry of the Bishops of Scotland" by Dr David M.Bertie, with financial support from the Strathmartine Trust and the Diocese of Brechin.

The book provides a single reference source for the coats of arms used by the Scottish bishops from the late thirteenth century up to the present day. The work covers the pre-Reformation bishops, the Church of Scotland bishops 1560-1689, the post-1689 Scottish Episcopal bishops, and the post-Reformation Roman Catholic bishops. The armorial illustrations, specially drawn for this publication, are in full colour throughout, and the seals used by the bishops are fully described. The accompanying text provides the family background to each bishop and brief details of clerical career. Each coat of arms is discussed in the context of the bishop's wider family and details are provided of any points of heraldic or historic importance. The histories of the diocesan arms of the Scottish Episcopal Church and the post-Reformation Roman Catholic Church are outlined in an appendix. The work is liberally illustrated with examples of seals, stone and wood armorial carvings, bookplates,
arms on portraits, stained glass, etc.

Over 300 bishops are included in this work which is a limited edition. The volume is
A4 size, hardbound, and is a companion to the Society's previous publications. The price is £25, plus postage & packing. If you wish to save the cost of postage, you can collect your copy at one of the meetings of the Heraldry Society of Scotland.


Please Note - All Cheques made payable to the Society must be in UK Pounds Only.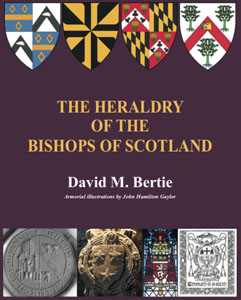 If you would rather pay by bank transfer, the account details are:
RBS, Edinburgh, St Andrew's Square
sort code: 83-06-08
account no: 00175911
The IBAN numbers are:
IBAN no: GB50 RBOS 8306 0800 1759 11
BIC reference: RBOSGB2L