In 1999, with the help of Lottery funding, the Society published Scottish heraldry : An Invitation, a highly informative and beautifully illustrated booklet by Mr Mark Dennis. In the preface, the booklet is described as "an invitation to the worthy and delightful study of Scottish heraldry. It is one man's cheeky keek at a noble discipline combining art, history, family, and the highest - and sometimes lesser - qualities of the human condition". The book is hugely popular and is now in its third reprint.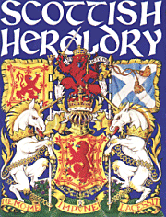 HSS Members & Non Members
Within the UK
£3.00 + £2.00 P&P.
European Mainland 8 -10 days
£3.00 + £5.00 P&P.
Rest of the World 8 -10 weeks
£3.00 + £6.50 P&P.